Creek Volleyball Senior Night
You walk into the Silver Creek Gym ready for the Silver Creek volleyball team,a team filled with players that replicates camaraderie, a competitive mindset, dedication, and school sport, having watched them all season, it all comes to an end. Senior night, a bittersweet night for all athletes knowing that is their last game in their home gym.
For girls volleyball many challenges have arised for the graduating class of 2022. From new coaching staff, starting the program backup and COVID 19. But with every challenge they have faced they have overcome with flying colors. Making the seniors on the Creeks Volleyball team this season even more bittersweet.
Setter for the varsity volleyball team, Hannah Williamson, has played for the Creek team for all four seasons. First year on the C team and made her way to Varsity in her last two seasons and is the team captain this year as well. With it being the last conference game they will play as a team Hannah says " I'm excited to go out with a bang and just be able to play with my teammates in the gym for the last time".The last game on Thursday the team hopes to go out strong and with packed stands.
Head coach for the Volleyball team, John Miller, has been coaching and teaching at Silver Creek for three years. For many sports, Senior night brings out many emotions. Miller says "I have mixed emotions about senior night this year. It marks the end of the volleyball season for seven seniors which I've had a variety of experiences with as head coach. I'm excited for them to move on with the next chapters of their lives but i'm sad that this will be the last time that they play in the silver creek gym". For many players it brings mixed emotions but for Miller he's a proud coach.
Senior night brings about many things for people. For the parents it can bring tears of joy as they walk you down and they explain what you are planning on doing next. For students it brings out roaring cheers as a congratulations. Coaches giving you hugs for all the hard work that you have proven on and off the field. And for the senior, emotions rushing through your body filled with happiness and sadness to have you last night in the gym or field that helped shape you the past four years.
Senior Stella Starck, Middle Blocker on the team, has been playing volleyball for twelve years and has been a part of the Silver Creek Volleyball Community since freshman year. For her the thought of Senior night brings out celebration and lots of tears. Starck says "I'm super excited just to have one last game with all my best friends and be able to bond over this special night. I think tonight there will be a lot of love and support and definitely a lot of tears". This will be the last game that Stella Stark plays as a Raptor for the volleyball team.
Senior Night is the end of the chapter for many raptors at Silver Creek but a night to celebrate and leave everything on the court one last time.
Leave a Comment
About the Contributor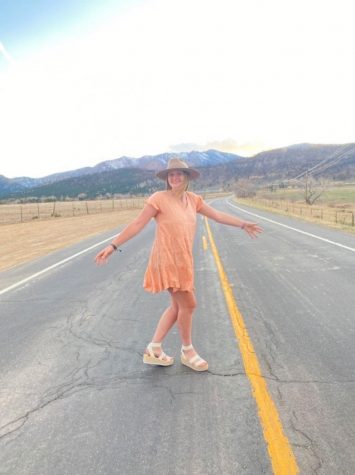 Mayson Bogrett, Staff Writer
Mayson Bogrett is a senior at Silver Creek Highschool. She loves staying active and being with her family and her dogs. She is taking journalism this year...