The 'Heartstopper Series: A Story of Diversity and Perseverance
WARNING: This article may contain content that is triggering for some audiences. The series involves heavy topics such as bullying, mental health, and eating disorders.
Author: Alice Oseman Genre: Graphic Novel, Coming of Age
Published: 2018
Written as an episodic, Heartstopper explores the day-to-day experiences of same-sex grammar school students as they navigate lives full of mental health struggles, discovering sexuality, and exploring relationships.
The Heartstopper graphic novel series, written by Alice Oseman, follows two main characters who attend the same school, Charlie and Nick. Charlie—a shy, openly gay man at an all boys boarding school–has experienced a lot of bullying and only trusts a few select people. Nick, on the other hand, is a sports "lad" discovering who he really is. Charlie and Nick seem like they are worlds apart, but find themselves sitting next to each other in homeroom and eventually develop a friendship that grows throughout the series.
Exploring a variety of issues, from discovering sexuality, to eating disorders, to showing diverse relationships, the Heartstopper series tells a story of how love conquers above all else.
The main characters of Heartstopper, Charlie and Nick, actually first occur as background characters in Alice Oseman's (Other works include Radio Silence, Loveless) first novel, Solitaire. Solitaire focuses on Charlie's older sister, Tori and her journey through life. Oseman wanted to further explore the relationship between Charlie and Nick while expanding her artistic skills by writing the graphic novel series.
Having to navigate non-traditional sexualities is another huge theme throughout the series. The main character, Charlie, was outed at school before the events of the series took place. However, Charlie still deals with the effects of the bullying that occurred during that period of time. Bullying isn't the only obstacle Charlie faces, though. He has a crush on someone he thinks is straight.
The conversations about discovering sexuality are another aspect to the series. Nick has only had a crush on girls before, but now he is questioning his relationship with Charlie. Is he interested in boys too? This conversation plays out between Nick and Charlie as Nick discovers the term bisexual and contemplates its application to him. From the adoring awkwardness that comes from the first scene, to the emotional scene where Nick comes out to his mother, the representation of bisexuality is artfully executed.
The representation in the series is fantastic as many relationships do not follow typical LGBTQ+ representations in the media. While Charlie and Nick and their relationship between a gay and bisexual man is not rare, the relationships of their friends are. Tara, Nick's friend and former crush, and her girlfriend, Darcy, go to the same-sex sister school of Nick and Charlie's. Tara and Darcy are very diverse characters in a multi-racial relationship. Additionally, there is a relationship between Charlie's friends, Tao and Elle. Elle used to attend the all boys school before coming out as transgender and transferring to the all girls school. By exploring many different types of queer relationships, Oseman offers a place for LGBTQ+ people and their allies to explore how relationships exist outside of the perceived "normal" realm of society.
However, sexualities and romantic relationships aren't the only topics explored in the novel series. The depictions of poor mental health and eating disorders are handled in an artful way. In the fourth installment, there is a time-skip where the reader learns Charlie has been experiencing some negative emotions and struggling to accept his eating disorder. Nick covers the events in a journal-like fashion, describing how he has done his best to support Charlie and how Charlie has been making steady progress.
Instead of focusing on the negative side effects of Charlie's mental health, Heartstopper focuses on the love and support from friends, family, and partners through a mental health crisis. Though the downward spiral and subsequent hospitalization of Charlie may seem sudden and glossed over, the overall themes of love and support prove far more important than the details of Charlie's mental health.
The series shows many non-traditional relationships and steers clear of the typical cisgender, heterosexual, white relationships that are most often portrayed in the media. Additionally, the focus on love and friendship as a road to recovery shows how mental health struggles shouldn't be ignored, but can be redirected in their representation in the media. Themes of love and friendship prove that the diverse set of characters throughout the Heartstopper series can persevere through anything as long as they have each other.
Leave a Comment
About the Contributor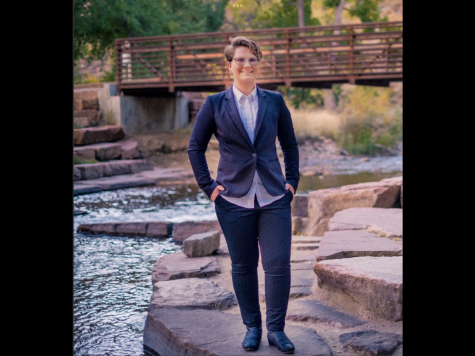 Shenandoah Waugh, Staff Writer
Shenandoah Waugh is a senior at Silver Creek High School and a first year Journalism student. They joined the journalism class because of their interest...