New Astronomy Art in Upper E-Wing
At the end of the 2021/22 school year, Silver Creek High School introduced a brand new class called Astronomy and Geology. This class entails studying extraordinary stars and interesting rock forms. This class is only open to Juniors and Seniors. Juniors/Seniors get to pick their science classes their last two years to whatever topic interests them.
Ms. Elizabeth Nel and Mrs. Rachel Turner are the only two teachers who teach this class. This is Mrs. Turner's first year teaching at Silver Creek and she took on Biology, Honors Chemistry, and Astronomy/Geology. This class is very different from any other science class. According to Turner, Ms. Nel is the pioneer for this course. She put in a ton of work over the summer to create the curriculum for the class. "She has always wanted to teach astronomy/geology at SCHS [Silver Creek High School]," Turner explains.
The first semester will be all about astronomy and the second semester will be about geology. Finally Ms. Nel's vision came to life and she and Turner are able to teach the students of Creek about astronomy and geology.
This class is all about learning about the unknowns or rarities in deep space. The students look at something called the photo of the day, which is an image that NASA releases everyday and give a brief description about the image. They also learn about the different forms of stars and their life cycle.
Just recently, the students got to pick a star, nebula, planet, or moon that caught their attention and recreate it in their own way. They were given oil pastels, paper, and their image and were told to take it away.
"I just started noticing that so many of you [students] had strengths in art…I wanted to merge the two[science and art]… art and science do go hand in hand," Turner states.
A lot of the students in the astronomy classes are very artistic. Even the students who consider themselves not to be, did a great job recreating these already phenomenal telescope images.
Arika Moore, a junior at Silver Creek, was one of the many students who did this creative project.
"The project we did in astronomy was fun and different.' Moore continues, 'I'm not especially good at art but it wasn't too difficult."
After the students completed their artwork, they wrote an artist statement. Which included details about the geography, the image they chose, what steps they took to create their image, etc.
Once the students wrote their artist's statement, their artwork was hung for all to see. These drawings are hanging on the wall in upper E-Wing outside of Mrs. Turner's classroom E206.
Most of the students really enjoyed this assignment. It was different and allowed for them to be creative and express themselves through art. Rumor has it that there will possibly be a few more projects like this for the Astronomy and Geology students!
Leave a Comment
About the Contributor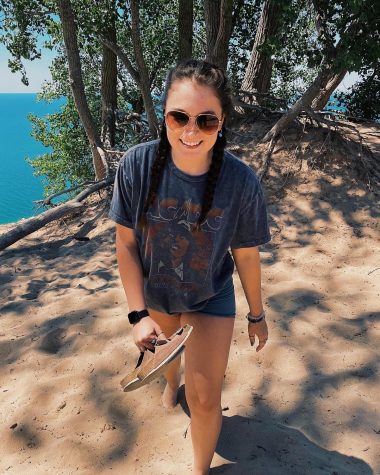 Olivia Enright, Editor in Chief
Olivia is a senior at Silver Creek High School, and this will be her third year as a member of the journalism program and her first year as the Editor...