Kira Wilhelmi's "Dude Be Nice" is Having Major Impacts at Silver Creek High School
Silver Creek Leadership Academy (SCLA), is a prestigious academy at Silver Creek High School that gives students the opportunity to connect with their community and give back to it in many ways. Students can go down to local schools and help teach children, or even go to city council meetings to get their voices heard for the community. Kira Wilhelmi, senior at Silver Creek, is a member of SCLA and through her project, she is aiming to "spread positivity throughout the community."
To do this she has encouraged Silver Creek students and the Longmont community to do "Random Acts of Kindness" through her Instagram page @dude.be.nice_schs, as well as organizing events for people to attend to bring the community together.
Along with the Instagram page, Wilhelmi, along with another classmate, has been putting up bulletin boards in upper D-wing with a "take one leave one" message board. These messages are meant to encourage people to get through the day, motivate them through finals, or to encourage them to do an act of kindness. Wilhelmi is challenging the community to come together by doing this.
When asked his thoughts on the board, Junior Eli Mires said, "It is very inspiring and makes me want to do more to help others out."
This is exactly what Wilhelmi wanted by putting this board up for everyone to see. This work helps bring the community of Silver Creek together. Similar to the board, she's organized events like an upcoming Pickleball Tournament on April 22.
During Valentine's Day she and some of her friends wrote letters to kids at the children's hospital which goes back to "spreading kindness," she plans on continuing this throughout her project and high school career. These letters not only helped the children that they were given to but also the people that helped. A senior at Silver Creek High School, Sophia Bandi was on the team for making these letters for the children.
"It really opened my eyes and showed me that there are people in need that can use these [letters], even if they are from strangers." Bandi said.
Wilhelmi's Instagram page has inspired many people and was even given a shout out by the head of "Dude Be Nice" page who has over 20 thousand followers. Similar to Wilhelmi, the main page is set to bring kindness and to spread positivity through the whole world.
"[I can't wait to continue to] use social media to give others ideas that they can implement in their own daily lives," Wilhelmi said.
Her social media isn't the only way for her to spread positivity. On Wednesday April 12, 2023 while students of Silver Creek High School are walking in for the SAT , they will see positive encouragement that has been written on the chalk by Wilhelmi and the Dude Be Nice team. She hopes to give students that extra edge and encourage people to take this test seriously as it can impact their future, and where they choose to go to college. In addition to this encouragement she will also be handing out candy to incentivize students to take the test.
Because Wilhelmi is a senior and will be going to college next year, she plans on passing this project down to a junior in SCLA to continue the passion and continue the work she has started. She hopes the next person has the same passion, and the same effect on the community that her project has had.
Leave a Comment
About the Contributor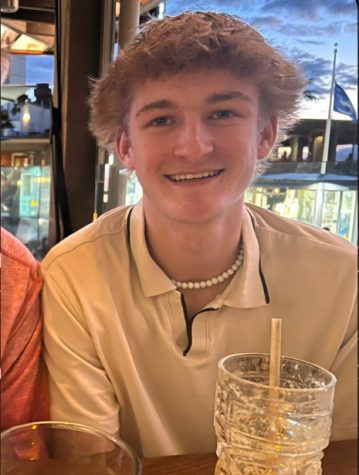 Jake Bator, Staff Writer
Jake Bator is a junior at Silver Creek High School. This is their first time taking journalism. They chose this class because they want to be a sports...