Sam Torgove: A Student Teaching Students
Had someone walked into Jamie Vigil's history class at the beginning of the school year, they would've seen her working alone, managing her classroom. That is until a few months ago when a new face came in, Sam Torgove, the new student teacher.
Sam Torgove is a 24 year old Colorado University student and California native who is soon to pursue his dream of teaching. He has been working as a student history teacher at Silver Creek for almost 6 months.Torgove reflects on why he wanted to become a teacher.
"Junior year of high school I had an APUSH teacher who really pushed me in history which is my favorite subject, and I kind of saw what he did for me and what he did for other kids in the class, and inspired them to want to show up and want to learn and so that inspired me to be that for other people in the future." Torgove said.
Very quickly, Torgove struck success with everyone being very accepting towards him, and becoming very well known in the classes he teaches, and students taking a liking to his fast and comedic style of teaching. You can even catch him doing dances in the classroom.
George DeLuna, a freshman and a student of Torgove describes Torgove's teaching.
"Mr. Torgove teaches like a normal, good teacher, but since he's younger it makes it easy to relate to him in a way," DeLuna said.
Mr. Torgove says he's enjoyed his time student teaching. With him feeling that he's been very accepted, and that he has loved his time working with students and his mentor Jamie Vigil. He talks about his favorite memory of student teaching this year at Silver Creek.
"I would say playing in the Staff vs. Unified Basketball game, was really fun, that was a really great event that I feel I didn't have at my High School, I feel the whole unified basketball program is really empowering, and just being able to participate myself with the other student teacher Mr. Thompson." Torgove said with a smile.
Torgove also grew up in the L.A. (Los Angeles) Valley, where he says he had some interesting run-ins with celebrities in his time as a student in California.
"Well the school I used to go to, the school I went to from kindergarten to 7th grade, is a school that Bronny James goes to now.' Torgove remembers. When I was there Kylie and Kendall Jenner were there as well, one time at lunch I didn't know who they were, but we had a ping pong table and I remember I played Kylie Jenner in ping pong and I beat her." Torgove says triumphantly.
Mr. Torgove will unfortunately leave at the end of the year, but the students that he helped with will be forever be bettered by his teaching and mentoring.
View Comments(1)
About the Contributor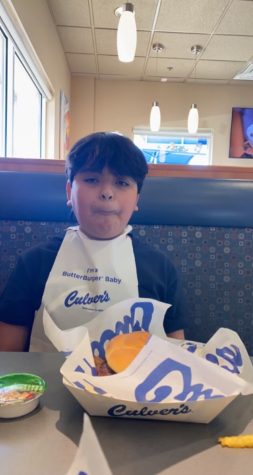 Diego Orona - Morena, Staff Writer
Diego Orona is a freshman here at Silver Creek, and has never taken Journalism. He's taking Journalism because he's always been interested in writing,...