2021 SCHS Open House
One of the most exciting things about November is when all high schools open their doors to incoming students for a grand event that will ultimately decide the next four years for many eighth graders: an open house.
Erick Finnestead, Silver Creek high school's principal of eleven years, says that open houses are tricky. "When we look at open houses there's a lot of competition amongst schools around the Front Range of Colorado," He says that during an open house, the goal is to tell incoming students Silver Creek's story and connect with them.
One of SCHS's big selling points is the Silver Creek Leadership Academy, or SCLA for short. Every year, for the open house, seniors have the opportunity to put a table out and display their Capstone Project to the community. Mayson Bogrett is one of those seniors. Her Capstone is Day of Champions. She says that for her, this booth is a great opportunity to tell people about her capstone project.
Carrie Adams, a founder and the project manager of SCLA, talks about how SCLA used to advertise itself to incoming students at past open houses. "We used to do a presentation on the stage, but in the last couple of years we've started highlighting the senior's capstone projects." Adams says that this not only helps seniors get the word out about their capstone projects but it also helps incoming freshmen learn about the school from actual highschool students who are more than happy to give all their best tips and tricks.
Last year during the height of coronavirus cases, the open house for Silver Creek was online, meaning students couldn't get the full experience of an open house. However, unlike many other schools, Silver Creek didn't do a webex but instead did a video. Freshman Ella Perry, who had "attended" the open house last year said she definitely preferred the video format versus a webex, which glitched and cut out a lot. "The video was super helpful because the webex meetings had a bad connection," Perry says, "[the video] was a lot better because you could watch it and pause it, which allowed for a better look at the school."
This year Silvercreek will be hosting an in real life open house. Finnestead also said that the set-up is going to be different. Obviously it will be a masked event, as per Boulder County's indoor mask mandates. Finnestead also said that instead of staying exclusively in the hallways, the plan is to move into the classrooms and have activities for students to do, to really get a feel and become immersed in the high school experience.
Despite past hardships due to COVID, everyone is extremely excited about this open house and especially why you should be a Raptor.
Leave a Comment
About the Contributor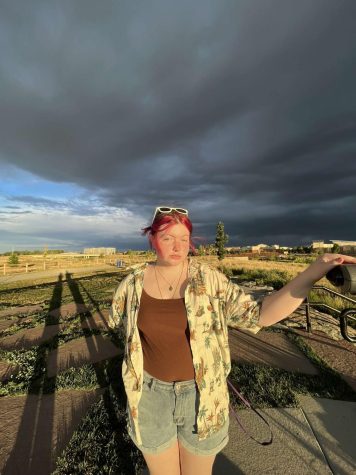 Mia Frazier, Editor
Mia Frazier is a junior at Silver Creek High School. She is in many school organizations and is an active member of her community but, in her free time,...