'Baby got Backhand' Tennis Tournament: Decades of Fun!
Parents, students, and staff all gather on the grassy knoll outside of the Silver Creek Tennis courts on the sunny afternoon of Friday, April 15th. With tables, yard games, and bustling players, the entire Mixed Doubles tournament hosted by Mrs. Forbes's SCLA class was a huge success.
The mixed doubles tennis tournament has become a fun tradition that helps raise money for the tennis team. From a small team sign up fee to a concession stand, every aspect of the tournament gives money back to the tennis team to help buy uniforms, balls, and senior gifts. The tournament consisted of 35 teams this year, a new record for turnout. With the sponsorship of Mrs. Juliette Forbes's SCLA class, this year's tournament also has fun twists where audience members could pay to freeze players, grant one player an extra serve, or make players use their opposite hand for a game.
The goal of this tournament is to increase community participation in the sporting world by getting teachers to play with students and by getting friends and family to come out and watch. "The community [can] come and see what we do and have fun," says Silver Creek tennis coach, Sara Whiteley.
The teachers were also interested in seeing how "SCHS students [got] involved in the tournament…I enjoyed seeing my students outside of the classroom," says Silver Creek teacher and mixed doubles participant, Bryon Booher.
The tournament also gives students the opportunity to "[let] the kids get to know some of the teachers outside the classroom," says Whiteley. "…It's interesting for [students] to get to see [teachers] outside the classroom. It [also] introduces people who may not be part of our tennis family to what it's like being out on the courts and introduces the kids to the community."
Overall, the goal of the tournament is to "[have] a fun day of tennis, be outside and have different people on the court," says Whiteley.
However, there is a lot of hard work that went into the set up, advertising, and execution of the tournament and its success can be attributed to the SCLA class who is doing the project as a Mini-Capstone. Mini-Capstone projects exist to give students a test run of working on a community project within small groups. This year, with the transition of Mini-Capstones to the 10th grade class of SCLA, some classes are working on large projects together by splitting into groups such as marketing, planning, and execution.
When thinking of projects her class could work together on, she remembered the ugly sweater fun run that was hosted in December.
"Mrs. Adams and I were looking for another fun community event that my students could organize," says SCLA Community Leadership teacher, Juliette Forbes.
The marketing team's goal is to get as many people to show up to spectate the tournament as possible.
"We want to get people to go out and see sports. This will be the first sporting event I go out to see all year and getting people to want to go out to these events [is important]," says SCLA student Kaitlin Ruth.
While the marketers originally had doubts there would be a high turnout for the event, their plastering of posters and social media posts really helped get many people to come and watch some fun tennis. The high turnout has made people excited for the future of the event.
In regards to the mixed doubles event, tennis player and SCLA student helping to run the tournament, Kira Wilhelmi, explains, "I'm just excited to get the tennis team more connected with the school itself."
Mrs. Forbes also wants to increase school spirit and says, "We just haven't had opportunities to get back together like this in a long time…to be one big Silver Creek community again feels good."
Between the size of the tournament and the $820.00 raised for tennis uniforms, equipment, and gifts, the mixed doubles tennis tournament tradition carries on by connecting students, teachers, and the community and bringing them all together with a fun, yet competitive, game of tennis.
Leave a Comment
About the Contributor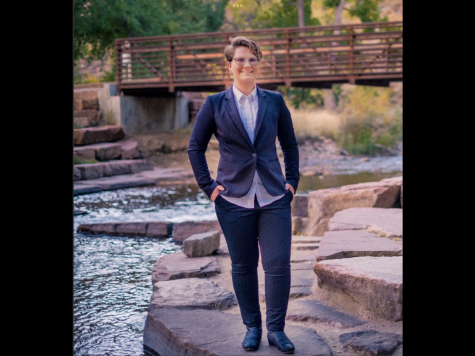 Shenandoah Waugh, Staff Writer
Shenandoah Waugh is a senior at Silver Creek High School and a first year Journalism student. They joined the journalism class because of their interest...