Silver Creek ISA Capstone Promotes Young Teachers
Imagine a classroom that is led by a student. That is exactly what is happening at Silver Creek High School through the Instruction Student Assistance (ISA) program.
Silver Creek High School has a Silver Creek Leadership Academy (SCLA) capstone project called Instructional Student Assistance (ISA). The project was first started in 2017 by Silver Creek alumni, Parker Nicholas, and is being continued by Silver Creek senior, Autumn Hall.
ISA is a program where students co-teach with a teacher, make lesson plans, keep students on track to graduate, and help the teacher out. These students co-teach in regular level classes (not honors or AP), mainly at the freshmen or sophomore level, or help out in the special education classes. There are a few upperclassmen who co-teach for one of their own classes. Students are recruited by teachers, Norris, and Hall who think that they will excel in this program.
Hall has a passion for teaching and wanted to give herself and other students an opportunity to explore the same passion.
"I'm really passionate about teaching… I'm doing it [participating in the project as an ISA], as well as leading the program… I really enjoy it," Hall expresses.
The program gives teaching opportunities to students who are interested in being a teacher, or simply students who want to help out. The program mainly focuses on juniors and seniors "but sophomores and freshmen can do it, they're just slightly more limited," Hall explains.
Parker Nicholas, former Silver Creek student, now a Creek teacher, worked with Karen Norris, Assistant Principal, to get this project started. Nicholas presented the project during the end of her junior year in May of 2017 and continued with ISA until she graduated in May of 2018.
"It wasn't necessarily a brain child that I had, it was Ms. Norris. She had been sitting with this idea for years," Nicholas states.
The project was originally dedicated to helping freshmen students. Nicholas and Norris saw it as a student teaching opportunity for juniors and seniors and how they could be involved in the classroom.
Since Nicholas has made her circle back to Creek, she is not currently involved in the project. However, she has a few ISA's in the classes she is teaching. She wants her students to know that they [ISA's] are there to help the students and not the teacher.
"I will ask how they [the ISA's] want to be involved in the classroom, but I definitely don't want to step on anybody's toes," Nicholas explains.
ISA's are dedicated to supporting their teachers and their peers. They are there to help and they want to be there. The ISA program is designed to help students stay on track to graduate, by having their peers step in and help them out. Karen Norris, Administrator and ISA mentor at Silver Creek, is dedicated to helping these students who struggle in the classroom and frequently miss class. At the lower levels in high school, some students don't realize the importance of showing up for class and passing their classes.
"In ninth and tenth grade, students don't always realize the importance of taking classes and passing classes, and even if you don't want to go onto college, getting that diploma," Norris states.
Norris realized that Creek needed an intervention class. The issue she faced was that there weren't any school personnel left over to provide support for students. Norris had to think outside the box or "inside the box" as she puts it. She had to get creative and figure out a way to bring the help that was needed to students in the classroom.
"We [Silver Creek] have a lot of kids who are talented… we have all of this talent here that we're not utilizing… you have 'this' and we need 'this,' put the two together," Norris explains.
ISA is a very valuable program and resource for all students. It's an excellent teaching opportunity for students who have an interest in a career in education or for anyone who just wants to help.
Leave a Comment
About the Contributor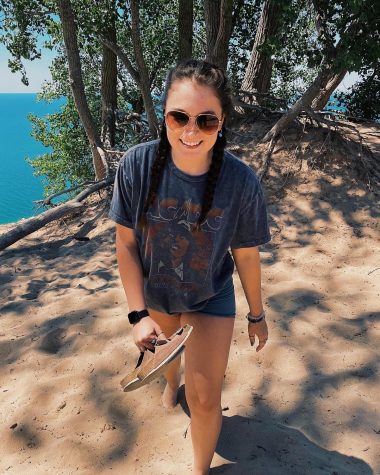 Olivia Enright, Editor in Chief
Olivia is a senior at Silver Creek High School, and this will be her third year as a member of the journalism program and her first year as the Editor...