Spring Sports Kicking Off With New Teams and New Relationships
Even though winter never seems to never end, Spring is right around the corner. That means Silver Creek spring sports are up and running with practices and tryouts for each sport.
Spring sports are like no other, bringing athletes together to be able to work on their chemistry and their craft for each individual sport. These sports include: boys baseball, girls golf, boys lacrosse (Athletes will play for the Erie High School lacrosse team), girls lacrosse (Athletes will play for the Mead High School lacrosse team), girls soccer, boys swimming, girls tennis, coed track, and the new addition of boys volleyball. The official start to spring sports is the 27th of February. This day marks the start of the building of new team relationships and old ones rekindling.
Many of the girls on the Soccer team are coming back from last year and already have many of those bonds created. Evy Deaton, who is a junior at Silver Creek, is especially excited to get back with the team and get to know some of the new members that weren't a part of the team last year.
"I am extremely excited to build a bond with the new team and see how this season plays out," Deaton says.
Even though she is returning, there are many players that are new and unfamiliar with the team. Deaton is trying to focus on becoming a leader and role model for some of the younger players that are joining not only the Varsity level, but also the lower level. This leadership is essential to team chemistry and constantly building a great and skillful group year after year. Last year the team did have a winning record going 8-6-2, and even with that great performance they are looking to still improve.
Similarly, the Girls' Tennis team has many returning members. Kira Wihelmi, a returning senior, can't wait to get back on the court.
"I am excited to play tennis because everyone is so supportive and uplifting on the court," Wihelmi says.
With many returning players from the team, they look to build on their chemistry now that they have a strong foundation from last year. Doubles tennis, which makes up almost 60% of the Varsity team, is highly dependent on cohesiveness. Knowing when to rotate, being able to communicate with each other, and simply just being able to get along on the court is extremely important and not an easy task. After dominating last season going 6-3, they are still focusing on becoming a powerhouse. To cement this in people's minds around the district and state, they will need to either repeat their dominant performance from last year or even improve from last year's amazing season.
This year the Girls' Lacrosse team is under a new school, Mead High School. This is the first year that Saint Vrain Valley School District (SVVSD) has created a "one team rule" for the schools in the district that don't have teams. They also did a similar thing with the boys team a few years back for the Erie lacrosse team. The players for this new team include senior and Michigan commit, Allie Hartman,and junior attackman Grace Weber. Both these girls are looking forward to working with each other and hoping that their friendship off the field can help their team on the field.
"I am happy and excited to play with the new team and see how this season plays out with this new group of girls," Weber says.
Weber does have some college offers but is continuing to look for her "perfect school." While on the other hand, Hartman has been officially committed to The University of Michigan since September 30, 2021.
Come and support your Raptor baseball, girls golf, boys and girls lacrosse, girls soccer, boys swimming, track team, and the newly added boys volleyball team in the coming spring season. The relationships that are built on and off the field for these athletes are vital to the success of not only their teams but it helps them become better people who are easier to work with. The skills they learn here will help them the rest of their lives and will never leave them.
Leave a Comment
About the Contributor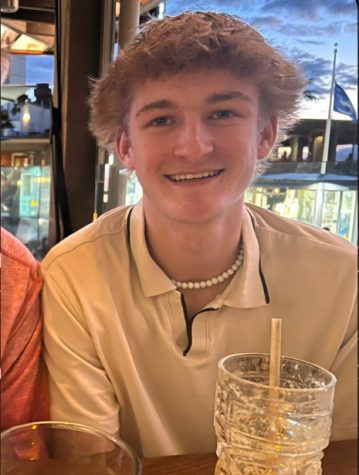 Jake Bator, Staff Writer
Jake Bator is a junior at Silver Creek High School. This is their first time taking journalism. They chose this class because they want to be a sports...