Parker Nicholas: Her Teaching Journey and Future Plans
Silver Creek High School's 9th grade Integrated class welcomed a new co teacher, Parker Nicholas, who taught the class while Kaelyn Vargo, the English teacher in integrated was absent. The students and teachers in this class witnessed her journey of becoming a teacher.
Nicholas, otherwise known as Nicks, filled in for Vargo for almost three months. She first came to the integrated classroom to teach in December and taught until the end of March. Integrated is a class that mixes history and English together. Nicholas has had past experience with integrated and used past knowledge to succeed. This was a learning experience for all the teachers involved, including Justelle Grandsaert who is the history teacher in integrated.
Nicholas shared about when she was a student in the integrated class when she went to Silver Creek High School and how it inspired her to teach.
"I've always wanted to teach… it wasn't until integrated that I fell in love with the content… that experience kind of solidified my desire to become a teacher," Nicholas said.
Grandsaert worked with Nicholas in the classroom and noticed how previous experience in integrated helped Nicholas and helped her fully grasp the understanding of the assignments and the entire school itself.
"She knew Integrated so it was a seamless transition. She knew the school and people and I learned from Ms. Nicks… it was a gift," Grandsaert stated.
Nicholas's first day in integrated was an experience filled with emotions and new steps in her career.
"I felt mixed emotions when I first started teaching integrated. Above all, I was excited because, again, I love the content," Nicholas mentions.
Being a new teacher also comes with fears. This was Nicholas's first experience with teaching a class and she had some worries when going into the integrated classroom and filling the shoes of Vargo.
"I was also nervous because it was my first official teaching job out of college… my fear was that I was going to do you guys a disservice," Nicholas expresses.
Vargo didn't teach with Nicholas physically but they communicated during her absence. Vargo saw that these fears were not something Nicholas should worry about.
"She added things and changed things to make things better and create her own style of teaching… She has a really great instinct when it comes to teaching and it comes natural to her," Vargo says.
When it comes to experiences like these, there can be lots of things learned by Nicholas, and Grandsaert was one of the many who was shown something new.
"She had a huge desire to learn. She went and observed other classes in the school. Her desire to learn and improve was a huge takeaway for me," Grandsaert said.
Vargo also learned and experienced new things when she communicated with Nicholas about teaching the class and observed her actions and assignments she created.
"I thought it was a great experience for me because I got a lot of great ideas that were unfamiliar to me that she learned in her teaching experiences," Vargo stated.
All the time spent in integrated created a sense of excitement for Nicholas.
"Teaching Integrated showed me just how much I love teaching and interacting with students. It made me more confident and excited to have a classroom of my own!," states Nicholas.
Now that Vargo has returned and is back to teaching, Nicholas must make plans for the future of her teaching career.
"Currently, I am planning on teaching English or History in Grand Junction," Nicholas says.
Vargo clearly sees and bright and full future for Nicholas when it comes to teaching.
"Wherever she ends up teaching, that school is very lucky to have her because she cares so much about her craft as a teacher and students she works with."
Leave a Comment
About the Contributor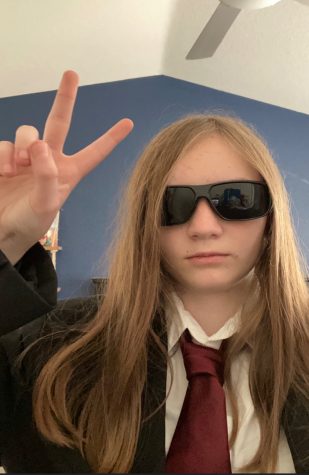 Mylie Stevens, Staff Writer
Mylie Stevens is in her freshman year at Silver Creek High School. Mylie previously went to Altona Middle school and followed in her sister's footsteps...