Silver Creek Baseball Clinches Playoffs For First Time in Four Years
The 2018-2019 Silver Creek baseball team was possibly the most dominant team to ever come out of Silver Creek, with a record of 27-4 and a conference championship to go along with that. They were a mix of juniors and seniors who made it all the way to the State Championship and lost to Pueblo West in the finals. Since then, Silver Creek has yet to make the playoffs again, being derailed in the 2019-2020 season due to COVID and not making a comeback until this year. The Raptors have been on a tear this year, even defeating a top 5 ranked opponent two times (Windsor and Longmont).
This year, the Raptors are 13-9 placing them 3rd in their conference, 4A/5A NCAC, and 19th in 4A. The players celebrated last Saturday, with their win over Mead High School. This victory meant that they will be returning to the State tournament and fighting tooth and nail for the elusive State title the first weekend in June.
Michael Wefleitener, former member of the 2018-2019 team and now hitting coach for the Raptors says that the team is filled with "well rounded players," and is "ready to compete at the highest level." This is the kind of encouragement that young athletes need to succeed in high stress level environments, like the playoffs.
On the offensive side, the Raptors are led by Sophomore Connor Lopez. While hitting 3rd in the order, Lopez has a team high batting average of .480 (meaning 48% of the time he's up to bat he gets a hit), with a team high 36 hits and a team high 18 runs batted in (RBI's). He also holds the team high for on base percentage, with .541, slugging percentage of .760 (this statistic combines amount of hit as well as extra base hits like doubles, triples, and home runs. The higher the number the better.), and even a team high 13 stolen bases.
"Staying relaxed and focused in the [batters] box and not getting too jumpy is what really helps me stay on time and drive the ball," Lopez says.
On the defensive side the team is led by their two dominant starting pitchers, senior Will Schleper and junior Jake Bator. Schleper has an outstanding record of 7-1, and Bator boasts a 4-3 record. Both pitchers have thrown a no hitter this year which has helped their team advance to their 13-9 record. Each of these players are also top 15 in strikeouts in the Northern conference, Schleper with 34 and Bator with 39. Schleper leads the team in earned run average with an outstanding 2.66 ERA in 44.2 innings pitched.
Schleper gets it done on both sides of the ball, having not only a great year on the mound but also a great year at the plate. He ranks 3rd on the team for batting average, hitting .375 with 21 hits (2nd on the team) and 17 RBI's, 1st in doubles with 6, t-2 for stolen bases with 10, and 2nd on the team with a .625 slugging percentage.
"I love helping the team out any way I can," Schleper explains. "To be able to go both ways is something I'm willing to do to help us win."
Their elite offense combined with their outstanding pitching staff is what has helped them solve the four year playoff drought. Playoffs start Saturday May 20th, come out and support your Raptor baseball team!
Leave a Comment
About the Contributor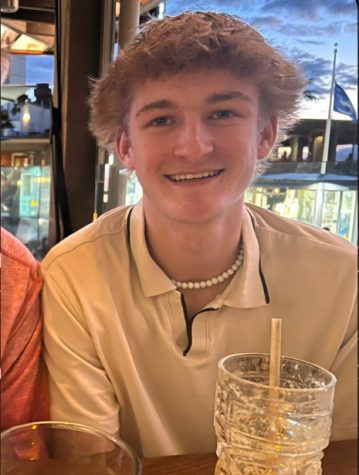 Jake Bator, Staff Writer
Jake Bator is a junior at Silver Creek High School. This is their first time taking journalism. They chose this class because they want to be a sports...