The End of the Year Psychology Panel
Upperclassmen at Silver Creek High School have been focusing their time researching and going to college fairs to learn about their interests and find out more about future career options. To combat student's stress, many teachers have been setting up panels and meetings to help them better understand their future career options.
Juliette Forbes, Psychology teacher at Silver Creek High School, took it upon herself to create a Psychology panel on May 9 and 10 during her Intro to Psychology and AP Psychology classes for further information about psychology and future careers involved in the subject.
The purpose of the panel was to provide students with the opportunity to ask any questions they might have about the psychology field to some former Silver Creek graduates who are currently working in the field of psychology.
The former students were invited to meet Forbes' classes in the library, and host a Q&A on their experience in the field of psychology as well, as their experience in their undergraduate colleges.
Starting with AP Psychology on May 9, the speakers were happy to inspire others and feel back at home after they graduated. Sofia Bantowsky, former Silver Creek graduate as well as current staff at the Boulder Community Health Inpatient Psychology Unit, felt very privileged to be able to talk about her career.
"I really enjoyed participating in the panel this year," Bantowsky says. "Mrs. Forbes was a huge inspiration to me and my career in the field of psychology, so it was really special to visit her and her students. It was a good opportunity to see Mrs. Forbes and catch up with her, and to meet her students as well."
With eight former graduates coming into talk, students were provided with a 'bio sheet,' which described each guest's educational and clinical experience. They were encouraged by Forbes to ask the guests about their specific experiences, as well as general questions about their experience so far working in the field of psychology. Forbes also provided guiding questions throughout the discussion to bring more detail to the conversation. Forbes successfully created a panel that she was proud of.
"It was probably my favorite day of my teaching career," Forbes says. "It was so great to see everyone so interested in psychology and so invested in their future possible careers."
Not only was this panel inspiring to the students and Forbes, it also was very fun and interesting for the guest speakers. Mariah Powell, guest speaker and former Inpatient Psychology worker, added her perspective of the panel.
"Coming to visit the AP Psychology class at Silver Creek High School was a great experience," Powell says. "I remember having psychologists come speak to us when I was a student. It was surreal to be on the other side of the panel. It made me feel proud of the progress that I have made in the psychology field. I also felt inspired to see the interest coming from the students in the class. They showed us a lot of curiosity and passion for mental health and wellness."
Putting this panel together created a great opportunity for everyone involved. Instead of just talking about different careers, they were able to explore different options through the help of the other past psychology majors. Forbes' AP Psychology and Intro to Psychology classes got many new perspectives of jobs such as Impatient psychology units as well as other therapeutic careers that could potentially change their future careers.
View Comments (2)
About the Contributor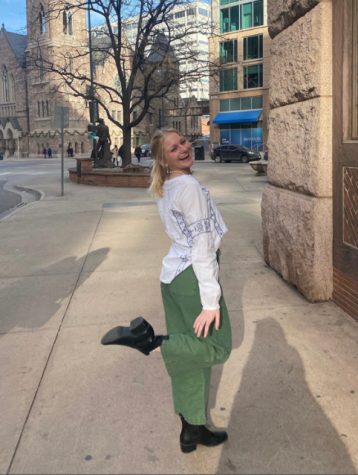 Tessa Bantowsky, Staff Writer
Tessa Bantowsky is a Junior at Silver Creek High School. This is her first year taking Journalism. Tessa is excited to write for The Talon Tribune and...