SAT Prep for Raptors!
One of the most stressful times of the year is soon approaching for students: the dreaded standardized testing season. In preparation for these tests, Silver Creek High School not only added an extra practice test day on January 31, but Silver Creek is also hosting SAT prep every Tuesday, Wednesday and Thursday after school from 3-4 p.m. SAT prep is held in the Maroon Lab upstairs. It is facilitated by Eric Ottem, Assistant Principal.
Although many students will opt out of this free course, those that have come have shown improvement in their SAT scores in the past. In fact, an Oxford Study done in 2012 states that "A meta-analysis of all qualified studies confirmed…coaching for the SAT does significantly improve treatment group scores over control group scores"
The program that students use for their prep is through Khan Academy. Their website states that "Students who used Official SAT Practice for six or more hours and followed at least one best practice scored 39 points more from PSAT/NMSQT."
Khan academy targets practice that the students need through evaluation tests and practices. In the past, SAT prep courses at the school have been less than successful with capturing student attention, as they were more like a class and less self paced. Providing an environment where students can have a course designed specifically for them is much more effective and beneficial.
SAT Prep started in the second half of the school year, after Winter Break. Despite the SAT being in April, some students have attended the course since the first day it was offered.
Leigh Baker is a junior who has attended SAT prep at the school since the very first day that it was offered. They say that "it's a good opportunity for practice in a more quiet space, however, it doesn't offer a lot of understanding."
Sofia Moon, another student who has also attended the prep course since the very beginning, says that "SAT prep has helped me prepare for the real deal and it has given me an idea of how the real test will be."
Assistant Principal Eric Ottem encourages students to involve themselves in Silver Creek's SAT prep course because it gives students the opportunity to see what type of questions they will encounter on their test as well as give them practice reading and understanding the questions.
Although Ottem has only advised SAT prep for three years, he says that he enjoys helping kids with their testing scores. Doing well on the SAT can open many doors for students, including college admissions, scholarships, and even grants. Ottem's passion for helping students with their test scores stems from his own scores helping him get into an ivy league college. He hopes to have the same impact on other students as well.
He says, "I know how important those test scores are for me and for other kids who are trying to get ahead in the educational world."
As the end time nears for students, more and more attend the SAT prep course to prepare. Ottem says that he thinks it's important for students to get a good idea of what the SAT questions will be like, as well as getting used to reading the instructions and analyzing the questions efficiently.
Leave a Comment
About the Contributor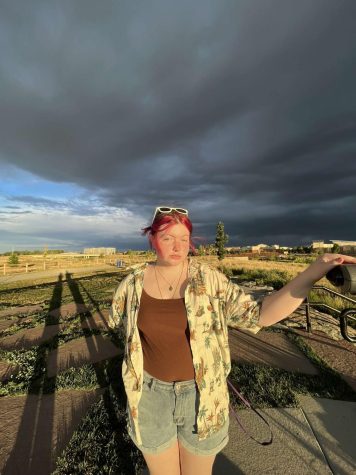 Mia Frazier, Editor
Mia Frazier is a junior at Silver Creek High School. She is in many school organizations and is an active member of her community but, in her free time,...