Dune (2021) Review
Set in the year 10,191 a feudal republic rules over the entirety of the galaxy, worlds have all but forgotten Earth. Dune, directed by Denis Villeneuve is a movie about a futuristic society that can travel faster than the speed of light. Unlike the Star Wars Saga, they travel through the speed of light by a drug they had created that lets you fold the fabric of space with your mind. With an all-star cast including Timothée Chalamet, Zendaya, Josh Brolin, Stellan Skarsgård and many more, this movie (on paper) should amaze. So, can the movie stand up to its own hype? But first, a little background on Dune itself.
Paul Atreides played by Timothée Chalamet, a young gifted genius is born into a destiny that he doesn't quite understand yet, but the journey leads him to one of the most dangerous planets in the universe to save his family and his people's future. Evil forces burst into conflict over the planet's most valuable resource, "Melange", the drug used to warp space and extend people's lives. With Zendaya as Chani, the reason Paul figures out where he needs to go and future love interest. Oscar Isaac plays Leto Atreides (Paul's father) and Stellan Skarsgård as Baron Vladimir Harkonnen, the big (quite literally) villain of the story.
Dune was originally a novel written by Frank Herbert in 1965. Mr. Herbert wrote the book after working on an article about the Oregon Dunes. He discovered that desert environments actually gave birth to many major religions. It's evident after you look at the story of Christianity, Jesus was born in a desert town called Bethlehem and most of the story remains to be told around the deserts of Jerusalem. Mr. Herbert had combined his research on messiahs and feudalism and how he believed it was human nature. He would later incorporate this into the story of Dune.
Dune, unlike many other futuristic stories, centers mostly on politics and humanity, rather than technology and cool visual effects (although Dune still has these). Since the new view, he accidentally created one of the most influential Sci-fi novels ever written. According to wane.com it even influenced shows and movies from Star Wars to Spongebob. The concept of the movie alone is intriguing when one thinks about it, "A movie about aliens and sci-fi isn't tech centric? Why would anyone watch that?" one might ask. But in reality this is a fresh take. How many futuristic movies are more focused on the people themselves than the tech they are using?
The movie starts off with a brief description of "spice", the material used to travel through space in Dune and what it means to live on this savage planet. The movie itself was a gorgeous movie that shows proof that directors are fully capable of making sci-fi movies about lasers and strange looking aliens. Although the aliens that are in this movie are very strange and creepy, Stellan Skarsgård exemplifies a terrifying villain without having to blatantly be a stereotypical villain. Although there are times where the Computer Generated Imaging (cgi) is not it's finest, that doesn't take away from the beautiful rolling sand mountains mesas.
Overall the biggest issue with this movie is that you are left with a very very vague premise until about three quarters of the way through. The cliffhanger that Villanueva left on, gave no hint as to what is going on in the next movies to come. Viewers state the soundtrack, although very good, was exceptionally loud. Although the film itself feels slow, it is a good movie. It has a breath of fresh air that we typically won't get from science fiction. There are some confusing aspects but there's hints that they'll be elaborated on in the rest of the trilogy. Overall this movie is a 9/10, it's got a great plot and great characters. But there are some mechanical issues here and there.
Leave a Comment
About the Contributor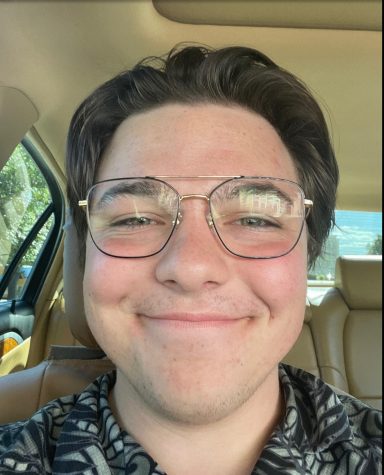 Andre Justen-Pratt, Staff Writer
Who is Andre Justen-pratt? Well he is a senior at Silver Creek High School who has a passion for finding and reporting the truth. But when he's not writing...