Spring Musical – Production of Spamalot
Silver Creek High School is working on a production of Monty Python's Spamalot this spring. With COVID-19 being close to an end, students are eager for the performance this year.
Spamalot is a classic comedy that retells the legend of King Arthur and his Knights of the Round Table. The comedy in this play is ideal for a highschool crowd. It was written in 2004, and the last Broadway performance was 2009. This play not only won three Tony Awards in 2005, including Best Musical, but was also followed by two successful West End runs.
During the month of March, they have practices Monday through Friday after school, from 3-5. Depending on a student's role in the play, they might only need to come to a few evenings per week. Monday is full cast rehearsal, Tuesday is blocking for speaking roles, Wednesday through Friday are choir rehearsals for singing parts and chorus. People can purchase tickets for May 5th, 6th and 7th at 7:00pm in the auditorium here at Silver Creek.
James Holtz is the director of the musical. He has been a teacher for thirty years, coming on seven years teaching at Silver Creek. Holtz has retired as a full time teacher, but is now their Speech and Debate coach along with the school's play director. Additionally, he is a "glorified sub," as he likes to say, for many teachers in the school. He is glad to be back performing normally with all of his students like Anika Reiner and Addison Brents.
Reiner, a senior this year, is playing the role of a cheerleader in Spamalot. She has been in theater since she was ten years old, where she started at a local community theater, Jesters. She has been involved with plays at Silver Creek before. Reiner is ready to perform again in-person surrounded by her crew members,"I love being with the people," Reiner says, "and just really [like] having fun with my community and my team members."
Brents is in the chorus, and has been in theater since she was eleven. She is a freshman, but was a part of the fall musical Much Ado About Nothing. Both Brents and Reiner have experienced performing with COVID-19 precautions, and its impacts.
"Without masks it's easier to show expression, especially when singing. You can hear people better," Brents says,. "It's also easier to make facial distinctions and show emotion."
On February 18th, the mask mandate was dropped for public spaces and schools in Boulder County and St. Vrain Valley School District. Without masks, the actors can express and see each other's emotions. They can also connect with each other and the audience more on stage now.
With COVID-19 settling, the crew is also hoping for a returning audience. More people are now able to be seated in the auditorium. During COVID it was limited, now it's back up to 350 people. The school will be able to have more families, friends, and staff to bring to support the theatrical arts.
"I am excited to be able to watch the school plays again since COVID is getting better, and I really miss being able to actually see faces and people performing." Addyson Lurie, school play advocate, says.
Being back to normal and performing again without COVID-19 precautions enlivened the crew, especially without masks and being in-person as a cast. Everyone is ready, students and actors, for this spring's Spamalot, and more productions to come to our school.
Leave a Comment
About the Contributor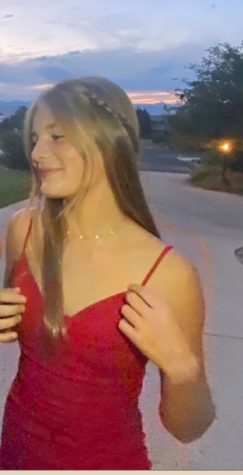 Ainsley Samatas, Staff Writer
Ainsley Samatas is in 9th grade at Silver Creek. She has never taken Journalism before. She loves to write and has always loved it, so she was looking...