A Colorful Addition to Marching Band
When thinking of a classic American football game, what comes to mind? The players under the bright lights? The concession stand snacks and drinks? Maybe even the catchy tunes that the marching band plays. For years, all of these elements and more have beenwere a staple at every Silver Creek High School football game. However, starting next year, there will be a new group joining the excitement of football: color guard.
Having roots in early wartime, the color guard served as a hype squad for the military by playing patriotic songs. Typically in a school setting, the color guard provides the visual aspect to the marching band that performs during a football game halftime show. Usually the performances include some type of choreography involving marching with flags to the music that is played by the band.
In the past, there were a few unsuccessful attempts to start a color guard at Silver Creek due to little student interest. Since then, Tracy Knick, Silver Creek French teacher, has revived the program with the help of the school's choir accompanist Rhett North.
"The trick with activities in all of this is getting kids interested… it becomes not just about creating something but it's a thing of community" says North, who is in charge of helping to get support for the color guard.
Knick has worked hard getting the color guard to gain traction. She has collaborated with parents and the marching band, as well as even working with middle schools to get eighth graders interested. Knick's passion for the color guard comes from her own experiences with it in high school. She participated in many performing art activities like theater and of course, color guard.
"[Color guard] and theater were really the only things that kept me interested in school… they became my community and my family,." Knick says.
Her goal with color guard is to give the students of Silver Creek the opportunity to experience a community like the one she was in during high school.
So far, her efforts have been successful. Already, many students have become interested in trying out for the color guard. Tryout posters are all around the school with QR codes that can be scanned to sign up. Auditions are on Saturday but some after school clinics have already taken place, with around 15 students attending the first one.
"The community has a lot of nice and funny people. It's also really fun to do the practices" Freshman Rain Thorthon says.
Since the color guard is an extension of the marching band, those who join will be practicing with the band. This includes summer band camp and all after school rehearsals. However, in the end, all of this work will be worth it.
Along with colorguard experiencing a lot of student participation, there is also a lot of excitement from the student body around it. Since they will be performing largely at school events, there will generally be more school spirit around the marching band and their performances.
"CI think the color guard is a great opportunity for students who want to be more involved and I'm excited to see them perform," sSays Junior Kate Spellman.
Overall, the addition of the color guard to Silver Creek is a new beginning for school spirit, the band community, and the performing arts community. It encourages collaboration between all groups of students as well as adding a new flair to half time performances!
Leave a Comment
About the Contributor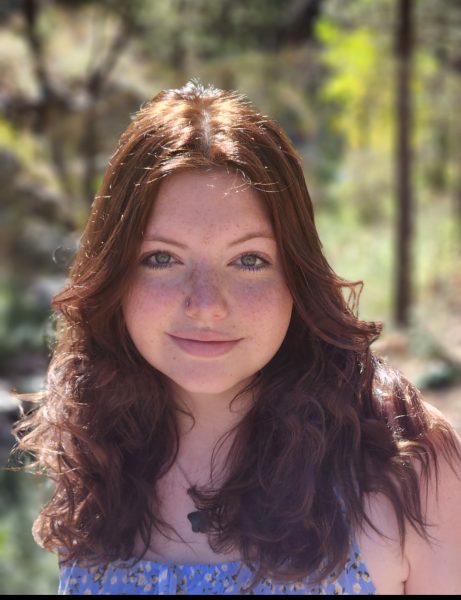 Mia Frazier, Editor in Chief
Mia Frazier is a senior at Silver Creek High School. She is in many school organizations and is an active member of her community but, in her free time,...